Most of you may not know, but I am about to be moving across the country for the second time in the last years.  For the last couple of years my family and I have been living in the beautiful state of Washington and while I think the Pacific Northwest is absolutely gorgeous, it isn't home and never felt quite like home.  My entire family is from the Southeast region of the US and we have all longed to move back.
My husband is in the US Navy, so we basically have to go wherever the government tells us to.  We were over the moon when he was recently selected to be a part of the Blue Angels team.  Not only is it a great accomplishment and honor for him to be a part of such a prestigious group, it also means we get to move "home".  My husband and I are both from different parts of the south, but both of our home towns are within a 4 hour drive of Pensacola, FL.
We already bought a house and I am actually moving there TOMORROW! Our flights leave tomorrow and we will get there late tomorrow night.  I FREAKING LOVE the house that we bought, but I am going to be doing lots of painting and some minor remodeling.  We are getting all new living room furniture, as well as new furniture for both of the kid's rooms.
I am a huge fan of the show "Fixer Upper" and I love the farmhouse aesthetic, but I want to alter that slightly and have it be more coastal chic than farmhouse-y.  What I love is that most of the rustic elements are the same, but adding touches of sea foam greens and shell textures really elevate the farmhouse vibe to coastal cottage.
We haven't purchased our living room furniture yet, but I am thinking whites, beiges, or light grey finishes.  Maybe some leather accent chairs.  Something very similar to the sofa below, which is available right now on Joss & Main in case you are interested.  I LOVE it.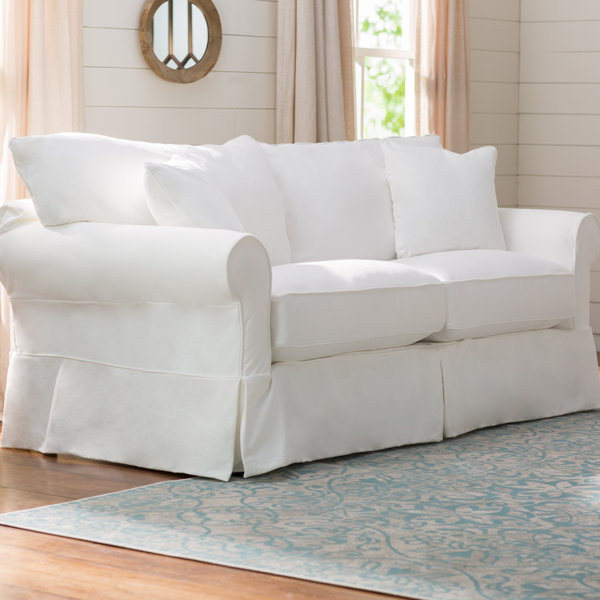 It is a super simple couch that really is basically a blank canvas.  Any color or trimmings you add to a room decorated with furniture like that will make it into whatever you want it to be.  Adding some simple throw pillows can make a big difference on overall design.
Since I am currently across the country, and already have an Amazon Prime membership, I have been doing some heavy looking at coastal chic decor there and have been really impressed with their selection.  More specifically, I LOVE their range of coastal chic throw pillows.  Below are the top contenders on the ones I plan to purchase myself, and while I was already looking I thought I would share my findings with you guys.
Sea La Vie Pillow Set | Coastal Damask Pillow | Sequin Leaves Pillow
Neutral Geometric Pillow | Watercolor Shell Pillow | Palm Pillow
Anchor Pillow | Turtle Pillow | Neutral Waves Pillow
Octopus Pillow | Coral Reef Pillow | Sand Dollar Pillow
I hope you love some of the beautiful pillows I've found.  I hope to post more coastal chic decor stuff in the coming weeks while I am decorating my new home, so stop by soon!
My Newest Addiction at times reviews products provided by PR companies. This is disclosed at the top of those posts. We also use affiliate links. For more, please see the disclosure page.