Hi guys!  I recently placed an order at thredUP because I was in desperate need for some fall and winter sweaters.  It is safe to say that 90% of my wardrobe still looks like I live in Florida, even though I relocated to the Pacific Northwest well over a year ago.  It is really hard for me to get out and about to shop for clothes, especially thrift store shopping, with my toddler so I found thredUP to be super helpful in the fact that it is essentially online thrift store shopping.  I can't wait to share with you a few of my favorite pieces I found!
You can take the girl out of the south, but you can't take the south out of the girl.  Yes it is fall and I am trying to buy some wedges.  Listen… I can't help it.  I saw these amazing Vince Camuto wedges and loved them so much that I couldn't let the deal slip through my fingers.  I got them home and they are safe and sound in my closet just ITCHING for the Spring and Summer months to return.
My absolute favorite top that I bought was this Ann Taylor sweater.  THe front is a regular run of the mill sweater but the back has silk panels that are button down.  YES.  BUTTONS DOWN THE BACK.  Maybe I am a little too excited over this but I am very plain.  I have a large chest so buttons down the front are just a HUGE no-no for me.  I finally can have buttons again. YAY.
I am not a big purple fan, but this light purple Gap sweater was just calling out to me.  I am so glad I got it because it is super comfy and fits me GREAT.
Camel is a color that I have been drawn towards since way back when.  When you look through pictures from my junior and sophomore year in high school, I think that more than half of them will be me wearing this beautiful color.  Mostly because I had a pair of leopard print shoes that I adored and that color just meshed so well with the fun print.
Last but not least is this really amazing chunky knit sweater from gap.  I love a nice cozy top and this sweater just screams comfortable, am I right?  The slits on the bottom side give it a little something extra.
Let me tell you about the coolest part of this little haul. The amount that I DIDN'T spend.  The retail value of all of the pieces I bought would have been well over $350 and because I went the thrifty ThredUp route I saved 73%.  That is AMAZING you guys.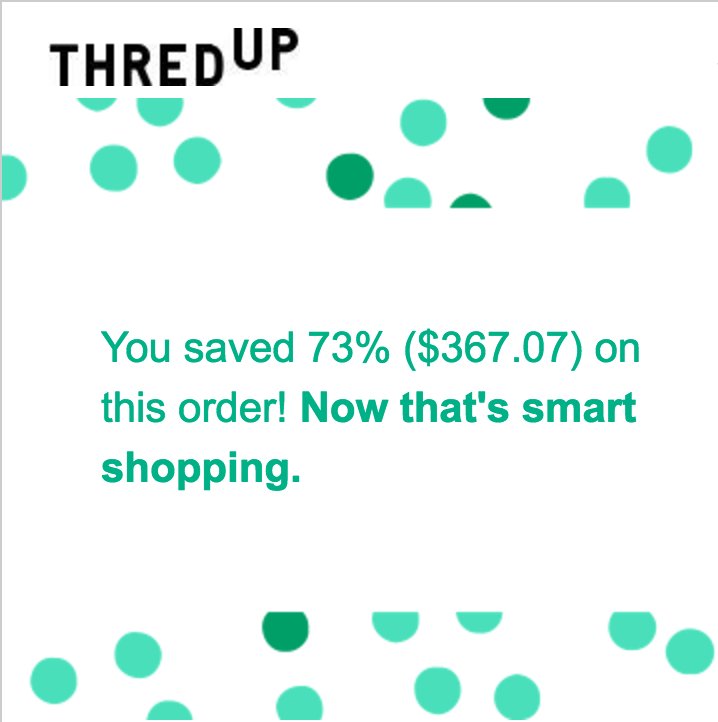 You can score awesome deals too because they always have coupon codes available.  A few of the ones I was able to find right now are as follows:
Tell me in the comments below: Have you ever shopped at thredUP before?  If not then WHAT ARE YOU WAITING FOR!?!?!
My Newest Addiction at times reviews products provided by PR companies. This is disclosed at the top of those posts. We also use affiliate links. For more, please see the disclosure page.