As you probably know by NOW I am a huge coffee fan.  I enjoy the scent, the flavor, the everything.  I am wanting to share with you some exciting things going on with Eight O'Clock Coffee right now!  First off, did you know that have been in business for over 150 years?  WHAT?  Their coffee is made with 100% Arabica beans and has a huge range of blends, from light to dark!
Eight O'Clock Coffee teamed up with Warner Brothers and are actually celebrating the 20th Anniversary of the premiere of Friends with a limited edition medium roast coffee house blend lovingly named Central Perk!  In case you aren't familiar with what Central Perk is, it is the coffee shop from the show in which tons of great memories from the show were made.
Not only did they create this awesome blend, but to celebrate even further there is a pop-up replica of Central Perk.  This pop-up is located in Manhattan's SoHo neighborhood at 199 Lafayette Street at the corner of Broome Street.  They are serving up free cups of coffee and have authentic memorabilia like the infamous orange couch.  There will also be some pretty awesome improv musical acts reminiscent of Pheobe's "Smelly Cat", which is one of my favorites.
National Coffee Day (which is today, September 29th) is going to be pretty epic.  There will be some fantastic activities and giveaways at the pop-up AND on their Facebook page.  Feel free to check out their Twitter too!  If you can't partake in the festivities there are other special offers available.  You can get $3 off of your purchase when you purchase a bag of Eight O'Clock coffee and one complete season of Friends together.
I am a pretty big fan of Friends and I love that each episode's name starts with "The One With"…  It really cracks me up, hence why I titled this blog post the same way.  It is SUPER hard to pick a favorite scene in Central Perk but the one with monica and Chandler fighting through the window is pretty funny! haha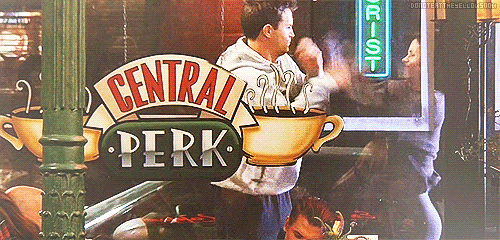 Tell me in the comments below:  What is your favorite episode of Friends?
My Newest Addiction at times reviews products provided by PR companies. This is disclosed at the top of those posts. We also use affiliate links. For more, please see the disclosure page.