I almost never talk about the fashionable side of things here on the blog, though I would like to start incorporating more of those types of things.  I recently received a new Tide To Go pen from my Influenster Vow VoxBox (you may have seen my Influenster Vox VoxBox Unboxing video) but these little balls of amazingness are nothing new for me.  I have actually had tons of these over the years.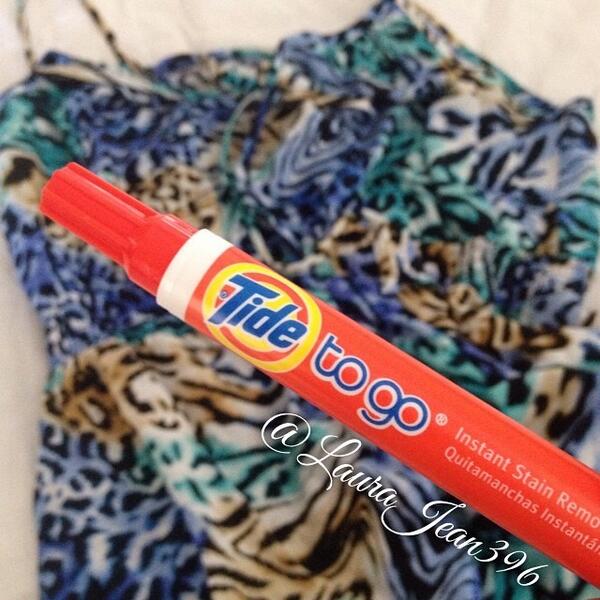 Funny story, every time I would buy one I could never find it so I kept buying more.  Come to find out I could never find it because my husband kept taking them to work with him.  He is in the military and has to wear a uniform so these things are his best friend.
I actually spilled wine on my favorite maxi dress last night while I was hanging out with my BFF and I pulled this little gem out.  I am a huge klutz so I have used these in the past to quickly touch up after lunch while I was at work.  These are great for kids too because, as everyone knows, they are the world's best mess makers.  My daughter has the most beautiful all white seersucker dress and I have to constantly clean little spots off of it with the Tide To Go Pen.  I have a wedding I am attending in a couple weeks so you better believe I am going to be bringing this bad boy along!
These Tide To Go pens retail for about $3 for one or around $9 for a pack of 3.  You can find them pretty much anywhere like Walmart or Walgreens etc.  They are definitely a staple for me.  I am willing to bet that if you haven't ever tried one that you will thank me later for telling you about them!
My Newest Addiction at times reviews products provided by PR companies. This is disclosed at the top of those posts. We also use affiliate links. For more, please see the disclosure page.